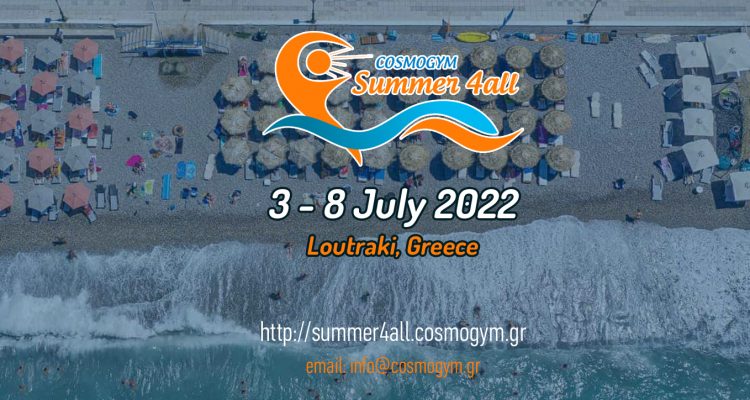 Short info…
Cosmogym Summer 4all!!! The ultimate summer gymnastics event is here and you can be part of it.
When?? 03 – 08 July 2022
Where?? Loutraki, Greece!! A destination full of suprises… 6 days starting from 235 euros/per person (early booking options available)
Participation card: 45 euros ​
Early booking until 31/12/2021
Pre-Registrations until 31/03/2022
Dear Gymnastics friends,
2022 is almost here and the preparations for Cosmogym Summer 4all have already began!!
The seaside city of Loutraki is ready to welcome teams from many countries. Τhis summer, get ready to experience the sun, sea and hospitality that Greece has to offer. We are very happy and excited to meet you all!!
We will be taking all the necessary measures and precautions to prevent the spread of Covid-19 and ensure your safety during your stay in Greece.
To benefit from our early booking prices, pre-register until December 31st, 2021. The pre-registration process will be completed by the end of March 2022 and we hope we can achive a great number of participants until then.
With a number of succesfull events and years of experience in the field of gymnastics, the Organizing Committee guarantees that Cosmogym Summer 4all is going to be the best summer destination for sport teams around the world.
Apart from the teams' performances, participants can socialize in other activities that we offer, such as parties, beach days, excursions and more.
Your time in "Cosmogym Summer 4all" will be unforgetable!!!!
Be part of it !!!
Find all the information you need about the festival in our website https://summer4all.cosmogym.gr/
#cosmogymsummer4all #summer4all #visitgreece #visitloutraki #loutraki #gymnasticslife #gymnasticseverywhere #gymnastics #acrobatics #acrobaticgymnastics #acrobaticarts #rythmicgymnastics #rythmics #aerobics #gymnastics4all #summeringreece #gymnasticsforall #gymnasticsforlife #gymnasticsfestival #gymfestival #gymfest #sportsforall #sportfest #dance #dancing #danceforall #artisticgymnastics