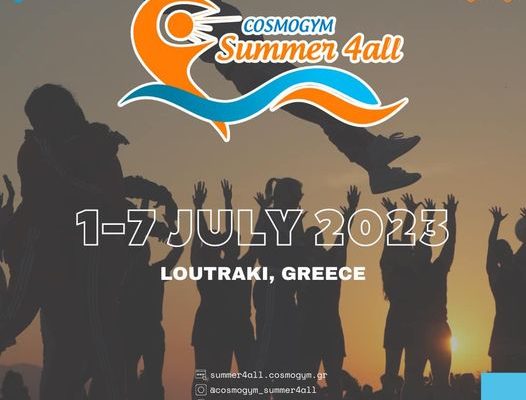 Are you looking for the ultimate gymnastics event this summer?
Join us to enjoy the beautiful sun and sea of Greece in the host city of Loutraki! We are excited to announce that the next edition of our festival will take place on July 1-7, 2023.
Our festival
Cosmogym Summer 4all is a successful gymnastics for all event in Greece. Our goal is to unite participants and teams from all over the world while giving them the opportunity to perform on an international stage. We offer a chance for gymnasts of different nations and cultures to make memories together that will last for life.
With team performances, workshops, excursions and beach activities, we are sure that your days in Loutraki are going to be full of fun, excitement and of course gymnastics.
Get ready to perform in a custom built elevated stage, specially designed for the purposes of the festival, with a backdrop no other than the amazing sunset of the Corinthian Gulp!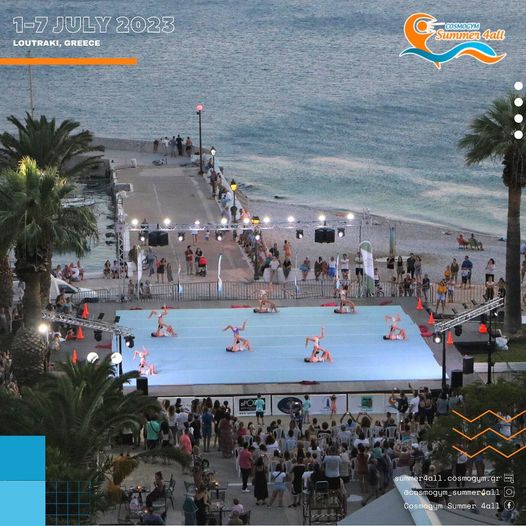 Our host city
Loutraki, a popular vacation resort, is a seaside town which is internationally known for its thermal springs. It offers a variety of tourist attractions as well as beach bars, cafes and night life. It is located about 80 km away of Athens and close to the famous Corinth Canal.
Cosmogym Summer 4all 2022 in a nutshell
6 days full of gymnastics and team performances
1700 participants
80 teams from Greece and abroad
4 workshops (acrobatics, zumba, street dance, aqua aerobic)
Countless summer memories and happy faces!
So, are you ready to be a part of Cosmogym Summer 4all 2023?
The notification of interest form is now open until October 31, 2022!
With a number of succesfull events and years of experience in the field of gymnastics, the Organizing Committee guarantees that Cosmogym Summer 4all is going to be the best summer destination for gymnastics teams around the world.
Your time in Cosmogym Summer 4all will be unforgetable!