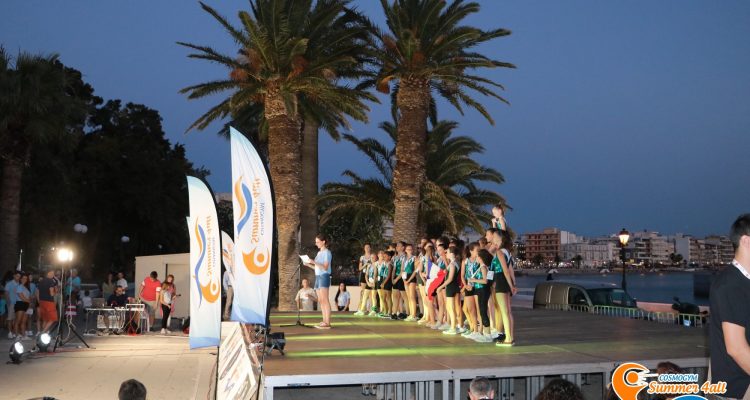 Dear gymnastics friends,
April is here and Cosmogym Summer 4all 2022 is coming closer and closer!
1788 gymnasts from Greece and abroad are meeting at the beautiful seaside city of Loutraki in Greece this summer.
55 teams with 94 gymnastic routines are going to perform at our custom built stage, specially designed for the purposes of the festival, with a backdrop no other than the amazing sunset of the Corinthian Gulp!
All the presentations of the teams will take place in Loutraki Beach Park, which will be temporarily transformed into a "Cosmogym Village" and will include:
A central elevated stage of dimensions 18×18 on which the presentations of the groups will take place.
Colored led lights, robotic heads, lasers, fog machines and more, will compose an impressive scene, highlighting the dance and gymnastics performances in a spectacular show.
Next to the stage and in the park there will be a warm-up area, kiosks for changing rooms, secretariat, doctor's office, warehouses, photo center and various other general areas.
The square with the cafes that exist will offer moments of relaxation and rest to the attendees.
Pre-registrations are now closed but there's still time to join! Final registrations are just beginning. So grab the chance to be a part of the ultimate summer gymnastics event! Make memories that last for life!
With a number of succesfull events and years of experience in the field of gymnastics, the Organizing Committee guarantees that Cosmogym Summer 4all is going to be the best summer destination for gymnastics teams around the world.
Apart from the teams' performances, gymnasts can socialize in other activities that we offer, such as parties, barbeque nights, excursions and beach volley cups.
Find all the information you need about the festival in our website and make your Final Registration from here…